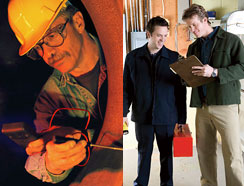 BEQ is there to help the clients to verify that their product have the required and expected quality.
BEQ is able to supply the client with Qualified Engineers, Inspectors, Technicians and Equipment needed to perform Quality Control, NDT, Workshop Survey, Documentation, Audits, Shipment Inspection, Supplier Evaluation etc.
In the company and in BEQ`s professional network Level II & Level III people is there to help our clients in all NDT Methods.
Level III services according to EN and ASNT.
Visual Inspection – VT, Radiography – RT, Ultra Sonic – UT, Magnetic Particle Inspection – MT, Penetrant Testing – PT, Eddie Current – ET
Positive Material Identification – PMI, Surface and Coating Inspections, Video Inspection, Bore scope Inspection, Shipment Inspections
Documentation review, Pre Inspection/Production Meetings, Kick Off Meetings.